Just to be clear, I will not claim that I am a part of any Tokusatsu or Sentai fandom as the most recent tokusatsu show that I have seen is Masked Rider Hibiki, which was aired on TV5's highly-popular AniMEGA block a couple of years ago, but the most memorable for me is Masked Rider Black in the 90s.
But one thing that I noticed throughout the years is how the fans of the Tokusatsu genre are a close-knit community, which I can see on sites like JEFusion and Orends: Range. I could see that despite the changes in the genre' generation, storyline and "transformation", it feels to me that they all knew & understood what they are talking about.
Probably the other close-knit community that I have observed are fans of Yaoi/BL, but let's talk about them some other time.
Just to give everyone a brief background on Henshincon, the event was the brainchild of JEFusion founder & head writer Daniel "GekiDan" Villodres and Henshin Hero Philippines members Lorenzo Asentista Jr., Naz Escauriaga and Alexander Mondia.
The main goal of Henshincon is to unite Filipino Tokusatsu fans and give them a platform in the Japanese pop-culture event scene in the country, although the organizers told us that they don't just limit themselves to the Tokusatsu genre but also to any characters, whether animated or live-action, that "transforms."
Henshincon was launched in 2012 and was supposed to hold its maiden event in 2013.  It was never pushed through due to financial constraints. Sadly, just a few days before the New Year of 2014, GekiDan passed away at the age of 25 due to Centronuclear Myopathy, which he bravely fought since he was four (4) years old.
A couple of years later, the JEFusion team, now headed by its head administrator & GekiDan's sister Amidel Villodres, has decided that the event should push through, as it will fulfill the dreams of her late brother… which happened last March 21-22, 2015.
Last March 21st, Anime Pilipinas was invited to attend the first day of Henshincon 2015, which they called the "Launch Party", at the One Esplanade hall in Pasay City.
The event is actually a dinner party that has activities like auction of special collectibles, question & answer,  meet-and-greet of the special guests, and a buffet dinner for all attendees.
The special guests for their maiden year are Kazunori Inaba (which has the screen name of Ryousuke Kaizu), who portrayed "Michael Joe" or "Redmask" in the classic sentai series Lazer Squadron Maskman, and Kei Shindachiya, who portrayed "Ken Hozikawa" or "Five Blue" in the classic sentai series Chikyuu Sentai Fiveman.
While the passes for this event costs around PHP1,000 and PHP3,000, I do agree that it sounded too much for the average event goer, but you definitely get what you pay for… besides, that is still way less than what you have to pay for Anime Festival Asia!
From what I've observed, this launch party is really for the core fans of the Tokusatsu genre, which I could compare to those people who get tickets near the stage in concerts… but at least here, their idols are just a table away or so!
There were also several people who there just for the nostalgia. This is clear in the faces of the guests, who were surprised that they are still being remembered by their Filipino fans throughout the years… Let's face it, that time when Masked Rider Black, Shaider, Maskman and Fiveman ruled the analogue airwaves were epic.
The activities were quite interesting, which includes the Question & Answer panel with the guests… but if you ask me, it feels that it was more of a bonding session between the fans and their idols. They answered questions like "Who is their favourite villain in their series?", "Who among their colleagues are the best to work with?" and "What would you do if you are not a tokusatsu actor?".
Things got a bit odd, if I could say, when some attendees asked Inaba and Shindachiya questions like "Who is their least favourite team mate?", "Which of the two series are much popular in terms of television ratings?" or "Who earned the most, Redmask or Fiveblue?"… but the two just given them their most wittiest answers, as it is definitely a n of nostalgia and celebration to all Tokusatsu fans!
For me, my most favourite part of the launch party are the auctions. If you are an avid viewer of the History channel, then you might have seen one of its popular shows, Storage Wars, and I'm one of its fans.
Sure, there are people who will say that it is just one of those "scripted reality" shows, but I will say that the people bidding to get a locker, how much they will pay, and how much money will they earn or lose… it is an absolute thrill to watch.
Anyway, it is great to see some rare gems that came from Mr. and Mrs. Inaba's personal collection, including some mint condition calendars from 1980s, autographed memorabilias from other toku actors, and even scripts from Maskman and Fiveman… and a portion of the proceeds will be given to People Empowerment for ARthritis and Lupus (PEARL) organization.
I'm definitely not surprised that the items being auctioned will go for as high as PHP5000 (over USD112), as they came from a personal collection and in almost pristine condition. Suddenly, there's this one calendar from 1987, which features several popular sentai series… in particular, one or two images of the highly-popular Masked Rider Black.
The bidding first became a frenzy, as a lot of people want it, but then it became a bidding war between three (3) people. We noticed that the price was getting ridiculously high, from the starting price of PHP100 (about USD2.26) to PHP10,000 (over USD225.50)… but it did not stop there.
It became a battle between (2) people, but they do not want to give up the calendar. The price is getting over ten-thousand pesos, and I'm sure everyone's emotion is running high… Hell, it was almost closing time! I did not know how, but only one person prevailed.
Final price for that calendar? PHP16,100 (about USD363). Let that sink in.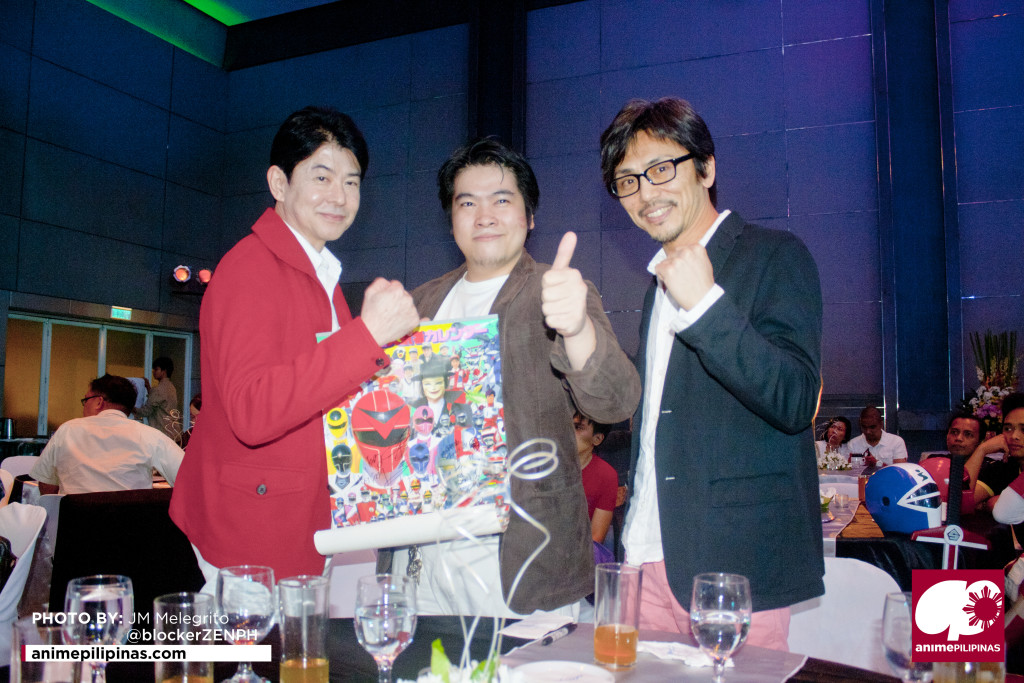 As the event drew to a close, the whole tokusatsu community in attendance remembered their dear friend, who will be remembered as that one person who dreamed to makes Henshincon a reality.
GekiDan may have passed on, but surely he was there in spirit… and probably possessed these people to spend PHP16,100 for a calendar. Just Kidding!
Most certainly, he will always be there in any future editions of Henshincon.
In my honest opinion, there are definitely some improvements that they can make, as they started a bit late or the program flow was not followed, but I can say that this is a innovative and different way to execute a pop-culture event, and I must admire that they have organized this event on their own.
I'll mark it as one of their growing pains, and I'm sure that they can make it better next time.
I hope that there will be more to come, as it gives people a lot more room to "transform" themselves into that fighting superhero that they want to be, or become that magical person that they wish for… and it is definitely a breathe of fresh air.
Until the next Henshincon… Henshin!
Anime Pilipinas is an Official Media Partner of Henshincon 2015. We would like to thank JEFusion and Mr. Lorenzo "Carrotz" Asentista Jr. for inviting us to the event.
If you have reactions regarding the topic, you may email me at [email protected].
---
The views and opinions expressed by the writer do not necessarily reflect the views of Anime Pilipinas, its members, partners, and colleagues. If you have comments or reactions, please email at [email protected].