Global streaming giant Netflix has announced on Thursday that the animated film A Whisker Away will make its debut exclusively on the platform this June.
The upcoming anime film will be available on the streaming platform globally starting Thursday, June 18. The announcement comes after the anime film's release in Japanese cinemas on June 5 has been postponed due to the effects of COVID-19 pandemic.
The film's production committee has also uploaded a new promotional video for the film's upcoming release on the streaming platform.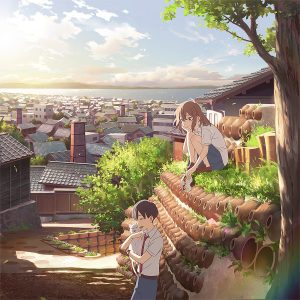 Miyo "Muge" Sasaki is a peculiar second-year junior high student who has fallen in love with her classmate Kento Hinode. Muge resolutely pursues Kento every day, but he takes no notice of her. Nevertheless, while carrying a secret she can tell no one, Muge continues to pursue Kento. Muge discovers a magic mask that allows her to transform into a cat named Tarō. The magic lets Muge get close to Kento, but eventually it may also make her unable to transform back to a human. (Synopsis from Anime News Network)
A Whisker Away (Nakitai Watashi wa Neko o Kaburu) is an upcoming anime film produced by Studio Colorido, which will also be its second animated feature-length film. The anime studio had previously worked on the anime film adaptation of the Japanese sci-fi novel Penguin Highway, which was released in 2018.
Junichi Sato, who previously worked in Sailor Moon and Ojamaho Doremi, and Tomoka Shibayama, who previously worked in Le Chevalier D'Eon and Kamichu!, will be co-directors of the upcoming film.
Mari Okada, who previously worked on titles such as anohana: The Flower We Saw That Day and Her Blue Sky, has written the film's scripts.
The Japanese voice cast are lead by Mirai Shida ("Kayo Horikoshi", The Wind Rises) as "Miyo Sasaki" and Natsuki Hanae ("Ken Kaneki", Tokyo Ghoul) as "Kento Hinode".