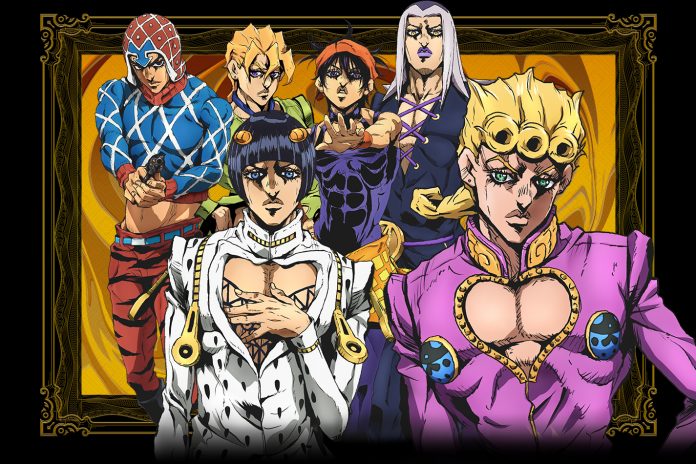 Anime Pilipinas has learned that Southeast Asian anime channel ANIMAX Asia is set premiere JoJo's Bizarre Adventure: Golden Wind anime series this August.
The show will premiere on August 19, which will air every Monday and Tuesdays at 10:00pm PHT, two episodes back-to-back. Encore telecast every Sundays from 09:30pm PHT.
Naples, 2001. Giorno Giovanna is a small-time crook with one big dream—to become a "Gang-Star." No ordinary thief, Giorno has a connection to the remarkable Joestar bloodline, and possesses a Stand named Gold Experience. His dream starts to become reality when he meets Bruno Buccellati, a mobster from the gang Passione and a fellow Stand user himself. Realizing that they share similar ideals, and both disagree with the gang's harmful affairs, Giorno reveals his goal to Bruno: with Bruno's help, he will reform Passione by overthrowing the boss.
As Giorno becomes a member of Passione, and is inducted into Bruno's squad, he discovers that it is no simple gang; its numbers are teeming with Stand users. Now confronted by other squads of differing loyalties and unpredictable caliber, their goal to change the gang from the inside out will be a tough one. Taking on these adversaries, Giorno attempts to rise through the ranks and inch closer to the boss, a man who is shrouded in mystery. (Synopsis from MyAnimeList.net)
JoJo's Bizarre Adventure: Golden Wind is an anime series based on the fifth story arc of Hirohiko Araki's popular supernatural action manga JoJo's Bizarre Adventure, which is being published by Shueisha since January 1987. The manga currently has 125 volumes in total, while the "Golden Wind" arc covered volumes 47-63.
Hideya Takahashi and Yasuhiro Kimura, who previously directed the anime titles Keijo!!!!!!!! and Three Leaves, Three Colors, were co-directors of the series with Naokatsu Tsuda who served as Chief Director, while Yasuko Kobayashi returned to his role as scriptwriter.
Takahiro Kishida, who worked on the sports anime Haikyu!!, now handles the character designs with Takahito Katayama handling designs for the "Stands", which is being produced by David Animation.
The Japanese voice cast are being lead by Kensho Ono ("Tetsuya Kuroko", Kuroko's Basketball) as "Giorno Giovanna", and Yuichi Nakamura ("Gray Fullbuster", Fairy Tail) as "Bruno Bucciarati".
JoJo's Bizarre Adventure: Golden Wind is one of the four anime shows lined-up to premiere on the channel this year.
The anime channel previously aired Lupin the Third Part 5 last February and Yo-kai Watch Shadowside premiered last June, while they have yet to announce the premiere of Death March to the Parallel World Rhapsody.
In a related story, Japanese entertainment channel GEM TV Asia, which is ANIMAX Asia's sister channel, will feature JoJo's Bizarre Adventure: Diamond is Unbreakable on its late night anime strip, starting August 13.
The anime strip will also air on a new timeslot, which will be every Monday to Fridays at 12:00am PHT. Encore telecast every Sundays from 11:30pm, five episodes back-to-back.
ANIMAX Asia previously aired the popular franchise's third season in May 2017.
ANIMAX Asia is available on SKYcable, Cignal TV, SatLite and GSat, as well as several provincial cable providers nationwide. Check your local listings.
For the full schedule and other details, please visit their website at animax-asia.com.