Philippine film distributor Pioneer Films has revealed on Friday that the anime film Code Geass: Lelouch of the Re;surrection will be screened in local cinemas this year.
A representative of the film distributor has told Anime Pilipinas that the popular franchise's anime film has a tentative screening date, but they are still assessing if the screenings of American blockbuster films could affect its schedule.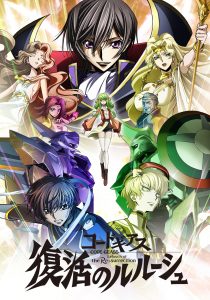 He gave up his life to save the world and protect the ones he loved. The day Lelouch vi Brittannia fell was the day this war-torn world found peace. Now, as his friends work to keep the peace, a terrorist attack could risk everything. Can the brilliant tactician outwit death and save them all? Or will Lelouch's legacy fall here? (Synopsis from Funimation Films)
Code Geass: Lelouch of the Re;surrection is an anime film, which serves as a sequel to the Code Geass: Lelouch of the Rebellion television anime series.
The story is set two years after the "Zero Requiem" storyline, which will be told in one film, making the anime film the franchise's finale.
The staff from the Code Geass television anime series, including director Goro Taniguchi, scriptwriter Ichirou Okouchi and character designer Takahiro Kimura, returned to work on the movie, which was produced by anime studio Sunrise and distributed by Showgate.
Jun Fukuyama, who leads the popular franchise as "Lelouch vi Britannia", returned to work on the anime film, together with Yukina (as C.C.) and Takahiro Sakurai (as Suzaku Kururugi).
The anime film opened in 120 theaters in Japan last February 9, which has earned JP¥286.65 million (about PHP132.36 million) during its opening weekend, which put them at Number 5 in the Japanese box office.
The film has since earned a cumulative total of over JP¥1 billion (over PHP462 million) in the Japanese box office last March.
The film is set to screen in North American theaters on May 5 for English-subtitled version, and May 7-8 for English-dubbed version.
Code Geass: Lelouch of the Rebellion was first aired in the Philippines through terrestrial broadcaster TV5 as a part of its highly popular TV5 AniMEGA time block from November to December 2008, which was followed by its second season from May to June 2009.
The popular series was also aired on the defunct Filipino-language anime channel HEROtv in 2010, as well as its Code Geass: Akito the Exiled spinoff series.
The anime series is being streamed on Netflix in the Philippines.