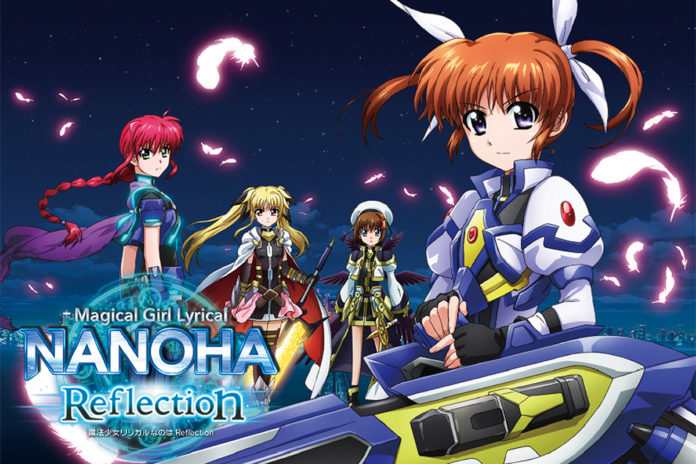 Singapore-based licensor ODEX has announced on Monday that they will be releasing the Magical Girl Lyrical Nanoha Reflection anime movie in Eight Southeast Asian countries.
The third anime film adaptation of the popular Magical Girl Lyrical Nanoha franchise will be screened in Singapore, Malaysia, Indonesia, Brunei, the Philippines, Vietnam, Hong Kong and Taiwan, while screenings in Thailand are still under discussion.
The licensor also announced that the anime film will have Special "Fan's screening" in Vietnam in late September, Singapore in early October, the Philippines in late October, and Malaysia in late November. The full details of the special screenings will be announced at a later date.
The company also confirmed that they will screen the movie's sequel, Magical Girl Lyrical Nanoha Detonation, which is set to premiere in cinemas next year.
A pair of researchers stay behind on their dying planet of Eltria with their two daughters, Amitie and Kirie, in hopes of finding a way to revive the planet. But when the husband Granz falls ill it seems their dream of reviving the planet will die. Against her older sister's wishes, Kirie sets off with her childhood friend Iris to seek help from a distant alternate world. They arrive in Japan on Earth to search for the key to their planet's regeneration. There, they meet Nanoha Takamachi, Fate T. Harlaown, and Hayate Yagami. (Synopsis from Anime News Network)
Magical Girl Lyrical Nanoha Reflection is the third anime movie of the popular magical girl franchise, which started in 2004 as a 13-episode anime series.
The first anime series was directed by Akiyuki Shinbo, who eventually directed popular anime shows like Hidamari Sketch and Monogatari series, while the scripts was written by Triangle Heart original video animation series creator Masaki Tsuzuki, which was produced by anime studio Seven Arcs.
The franchise now has five (5) television anime adaptations, three (3) anime film adaptations (with one movie upcoming), seven (7) manga adaptations, one novel adaptation, and three (3) video game adaptations for the PlayStation Portable platform.
The anime film was directed by Takayuki Hamana, who also worked on the popular sports anime The Prince of Tennis, while Tsuzuki handled the scripts.
Character designs was made by Kana Hashidate, who also worked on anime shows like Dog Days and Mushibugyo, which was produced by Seven Arcs.
Tsuzuki, who created the Nanoha franchise, explained in an interview with Gakken's Megami Magazine that the story of the new movies will be brand new, which will take place three months after Magical Girl Lyrical Nanoha the Movie 2nd A's storyline.
The anime film's cast are lead by Yukari Tamura ("Io", Granblue Fantasy the Animation) as "Nanoha Takamachi", Nana Mizuki ("Kisaki Kondo", WWW.WORKING!!) as "Fate T. Harlaown", Haruka Tomatsu ("Asuna Yuki", Sword Art Online) as "Amitie Florian", and Satomi Satou ("Yukiko Kanzaki", Assassination Classroom) as "Kirie Florian".